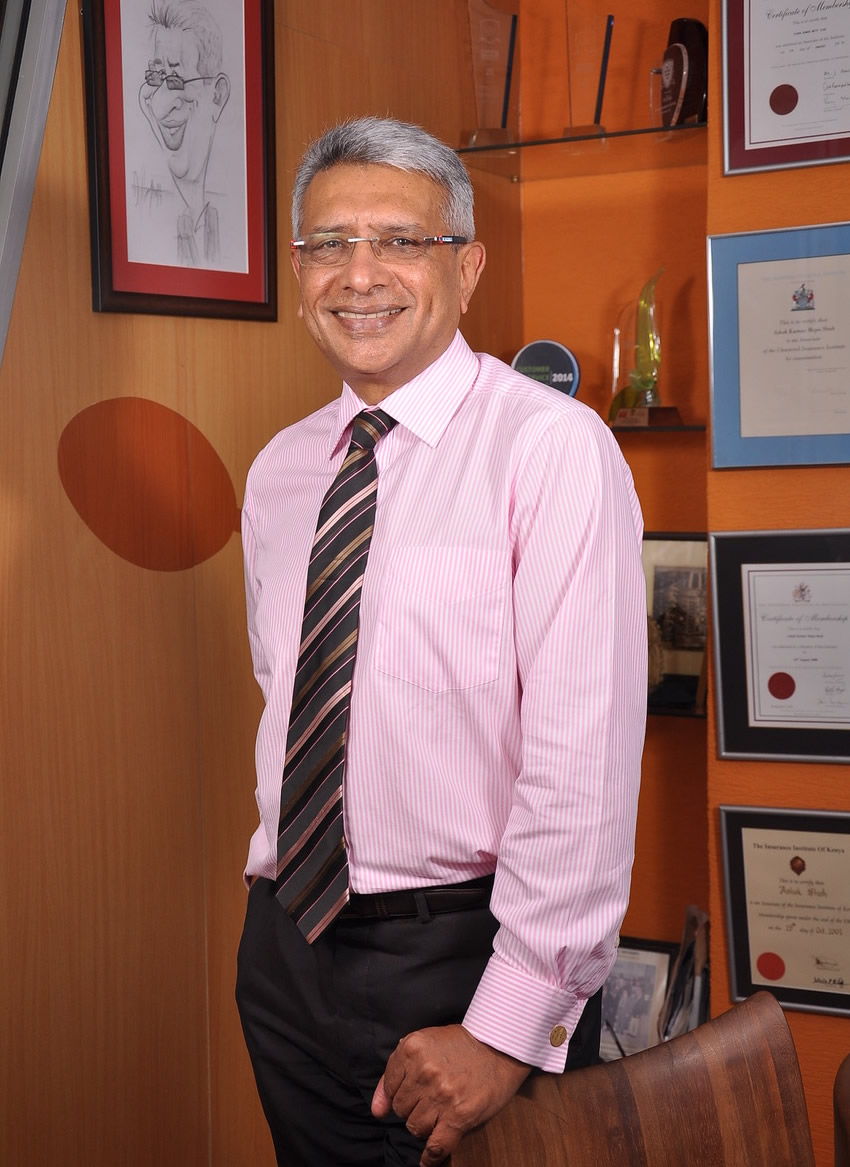 Mr. Shah's education is in Applied Chemistry.  Professionally he is a Chartered Insurer with ACII.  He is a member of the Chartered Institute of Arbitrators (MCIArb) and an Associate of the Insurance Institute of Kenya (AIIK).   He is a past Chairman of Association of Kenya Insurers (AKI) and currently the Group Chief Executive of Apollo Investments Limited. He is a Director of CDSC representing the Capital Market Challenge Fund. Other directorships include APA Insurance Ltd, APA Life Assurance, Apollo Asset Management, APA Insurance Uganda and Reliance Insurance Company Ltd in Tanzania.  He just resigned from ABSA Bank Kenya (previously Barclays Bank) having completed a 9-year term as a board member and Chairman of the Credit Committee.
He is a seasoned executive with nearly 50 years of progressive experience within the Insurance Industry both in East Africa and England. A solid reputation for achieving corporate growth objectives through providing strategic direction, diverse perspectives and positive leadership. Known within the industry for driving business results and maximizing profitability through the delivery of innovative products, quality and service and prudent management of people, technology and processes. Proven ability to manage budgets; align technology strategy with corporate strategy; set business and group goals; and lead large management teams to achieve project goals and exceed client expectations.
Ashok has steered the APA APOLLO group to great heights and has led key innovations in the Kenyan Insurance market. Apollo was the first Insurance company in Kenya to offered HIV cover in 2001, which was adopted 7 years later by other competitors. APA was formed in 2004 having merged the General Insurance business of Apollo and Pan Africa.  It is the most successful merger to date.  This same trailblazing spirit has seen APA lead a consortium of Kenyan insurers to partner with the public sector, in offering small holder index-based livestock and agriculture covers in marginalized areas of the country. This has lead APA Apollo receive several awards, the latest one being the European Microfinance International award for Strengthening Resilience to Climate Change.
His leadership of the insurance Industry was recognized, when he was the first elected Chairman of AKI in 2000.  Under his tenure, AKI was able to have the RBA act changed to include insurers.  He brought about the two-cheque system and negotiated the Third-Party Liability Limits for aircrafts.
Ashok is a tireless philanthropist whose activities through the APA Apollo foundation focuses mainly on environment, youth empowerment and education. Through building sand dams, the foundation provides communities with a clean, local and reliable source of water even during periods of drought.
He was the first recipient of the Lifetime Achievement Award for contribution to the Kenyan Insurance Industry and a finalist for both the 2015 and 2016 AABLA Philanthropist of the Year award and 2016 Entrepreneur of the year award. He was nominated for the international EY Entrepreneur award